And so it begins
The 10-day whirlwind run, work, run, trip that will kick-off five consecutive weeks of running. I might be just a little ecstatic! I'm not going to spoil the fun and tell you everywhere I'm going in the next 10 days; you'll just have to stay tuned to find out as I post updates. No, the point of this post it to share the challenge of how to pack for such a trip. With only carry-on luggage. I'm a light/minimalist packer to start with but this trip poses a few special challenges:
Clothes for a wide ranging activities and temperatures; Mid-30s F (~3 C) degree to mid-70s F (~22 C) for 4 races, 8 flights, 7 hours of driving, and three days of business meetings
Stuff that's pretty heavy: Graduation certificates for 40 people, 6 ball caps, and various other work supplies (including two laptops)
I won't have a lot of time to wait for checked luggage at a couple of my stops. Especially the last one so I can't check anything.
What I packed, in visual form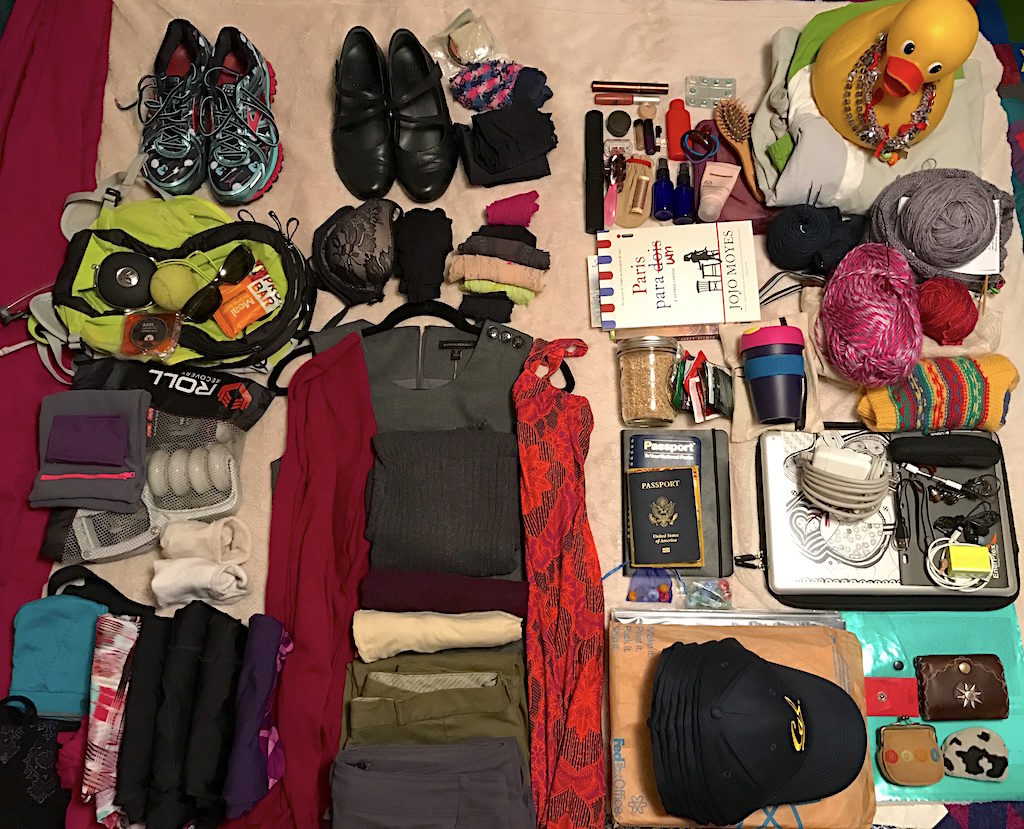 And if you are a words kind of person, here's the list (starting in the top left of the photo):
Clothing
Shoes: two pair – running and leather work shoes (plus shoe polish)
Socks: 3 pair + 1 pair tights – two running and one fun pair
Underthings: 1 bra, 5 pair of underwear and 2 Thinx (because you shouln't travel without them!)
Running gear: 1 backpack, wireless headphones, tennis ball, sunglasses, gel warmer thing, meal bar, Roll Recovery, a Tube and a headband
Running clothes*: 2 sports bras, 4 leggings & 1 bike shorts, 1 yoga tank and 1 long sleeve running top
Work & normal clothes: 1 business dress, 1 casual dress, 1 cardigan, 1 sweater, 2 tank tops, 1 business casual pants and 1 hiking/wear them for everything because I love them pants & 1 snowboarding jacket
Everything else
Toiletries: toothbrush, toothpaste, razor, 2 hair clips & 3 hair ties, tweezers and hand mirror, thread, deodorant, peppermint happy spray, dry shampoo, peppermint oil, sunscreen, shampoo, meds, hairbrush and (even though I never use it, but some day I might need it and it doesn't take up that much space) mascara, lip gloss and concealer
Work stuff: 2 laptops, spare battery, clicker, charger + magnetic adapter thing so I only have to bring one charger, two pluggable headphones (both of which which I will actually use at the same time), charging cables, 30 certificate folders and 30 heavy stock certificates, 6 ball caps & the important docs folder
Knitting projects: 1 headband that should have been done weeks ago, 1 hat that was done, then taken out today to re-make smaller, 1 new hat & of course when all those are done within the first 5 days, I'll need 1 sweater (it'll be done soon mom – I promise!)
Extras: Oatmeal and extra tea, 2 books (yes, one is in Portuguese – I'm going to teach myself – really, I am…), and my National Parks Passport (there are new stamps in my future!!!)
And then there's the stuff I always travel with: passport, wallet, 2 change purses, a bunch of Beads of Courage, 1 KeepCup & tea, a journal, a pair of Finnish handmade airplane socks; and of course – 1 giant rubber duck!
And what I packed it all in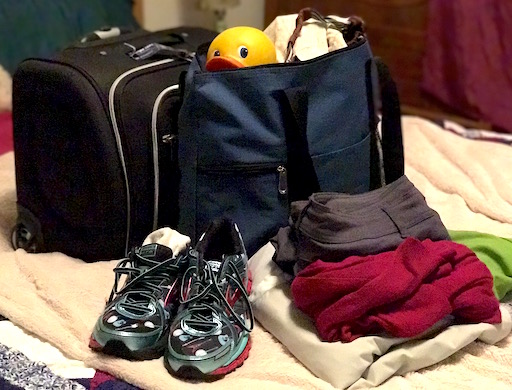 Usually I travel with my Osprey pack and my Timbuk2 messenger bag. Again, those who know me, you know I feel very strongly about luggage choices. However, when traveling with two laptops and certificates, they are not only heavy, they also need well protected. So, I end up having to suck it up and use my one rolling bag. It doubles as a practical travel bag storage unit 99% of the year. And, since I need somewhere for Jimmy to ride, I have to use my work tote with my messenger bag inside and Jimmy riding on top.
I pride myself that I won't be one of those travelers with an overstuffed "carry-on". The one that's not even close to 22 inches and doesn't actually fit in the overhead bin with out physical force and damage to the bags around it. (Like I said, I feel strongly about luggage choice).
To pack it all up
*Not pictured in the above or currently packed are neither the 5 technical shirts I'll be picking up from all the races nor all the bling! To be fair, I'll be giving away one of the knit hats and wearing another right away. That's some space that'll be freed up. Then, once I distribute the certificates and hats, I'll have plenty of space for souvenirs! (Send your requests with luggage limitations in mind.)
Now that I'm all packed and this post is complete, it's time to shower. My Lyft arrives at 03:30! It's a bit earlier than I would typically head out for a 06:15 flight. However, I have to make a pit-stop on the way to the airport to pick-up my second laptop at work. I forgot to bring it home with me in the chaos of fighting with the printer at the end of the work day. As the minutes ticked away, I was becoming very close to missing my much needed pre-travel & running massage. I was a bit smug and thought I had "won". I had 30 perfectly printed certificates in my bag and not 30 blank pieces of certificate paper to print at a random copy shop during my travels.
Then, as I lay on the massage table with my face smashed into that comfy horseshoe pillow and my therapist dug into that never relenting knot in my hip that doubles as a memory trigger, I let out an "ah crap!" She didn't ease up – clearly I didn't sound like I was in physical pain.
Follow me on Instagram to see where I end up over the next 10 days!